summary
Hosted by Jason Martell, the Ancient Explorers Premium subscription service presents the latest ancient discoveries, studies and theories through an accessible online platform.
Loading the player...
prREACH
Oct 11, 2014 /prREACH/ -- Encinitas, CA, October 9th, 2014 - Jason Martell, a researcher known for his recreation of the Baghdad Battery and frequent appearances on the History Channel, Discovery Channel and BBC, has partnered with the Ancient Explorers organization to host a new online subscription service that aims to serve the history and archaeology community, while also bringing this subject to the masses.
Known as Ancient Explorers Premium, the service provides a monthly stream of videos, location reports, tutorials and expert interviews on topics including ancient technology, lost civilizations, human origins, and mysteries from Stonehenge to the sunken city of Dwarka.
Some of the service's featured experts include New York Times bestselling author Gregg Braden, award-winning filmmaker Walter Cruttenden, alternative archaeologist Michael Cremo, and South African politician turned researcher Michael Tellinger.
"Many of the studies and discoveries in this field are critical to our understanding of mankind's past and even future - yet a lack of credible and consistent news sources have kept them mostly hidden from the public eye," says Martell.
"What the Ancient Explorers and I aim to accomplish is to combine their marketing pedigree with a consistent feed of relevant and high-quality information, so we can make ancient wisdom accessible and enjoyable to everyone - without compromising on the depth this subject deserves," he adds.
The Ancient Explorers, founded by Inc. 500 entrepreneur and history enthusiast Amish Shah, has amassed over 170,000 followers in 18 months. Shah claims this was accomplished through the same strategy of free organic content, social media content, and email marketing the has used to build multiple multi-million dollar online communities over the past 14 years.
"The reason we're investing so much time and effort into getting this information out is because it's about far more than just learning history. It's about uncovering the origins and wisdom of ancient humans, and exploring how this information can be used to augment science, technology, wellbeing and even spirituality in the present and future," says Shah.
"Jason Martell is a likeable and highly respected figure in this field. His accessibility is the perfect compliment to our outreach campaigns, so we can spread this knowledge to even more people and eventually create a tipping point in mainstream society where everyone's talking about ancient wisdom and its practical applications," he adds.
Ancient Explorers Premium is available now in 1, 6 and 12-month packages, starting from $8.08 per month. Subscription grants access to monthly videos, reports, interviews, plus a digital newsletter and expedition invites.
Founded in 2013, the Ancient Explorers is a privately funded organization of history and archaeology enthusiasts on a mission to unearth the forgotten wisdom of lost cultures, civilizations and cities. Over 170,000 people follow their updates through email and social media.
Get a free 1-month media subscription to Ancient Explorers Premium: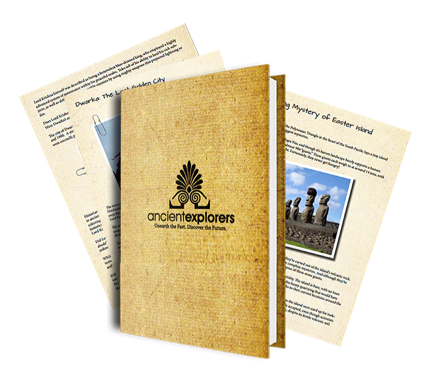 Visit the Ancient Explorers website and sign up on our mailing list:
Add us on Facebook:
www.Facebook.com/AncientExplorers